Military graves desecrated in Benghazi in second such attack in four months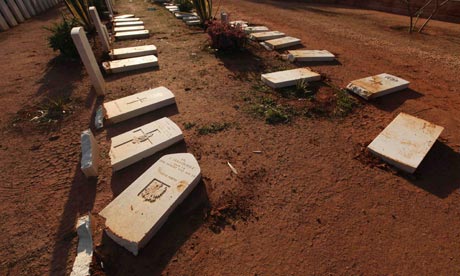 Headstones on second world war military graves in Libya's eastern city of Benghazi have been desecrated again, in the second such attack in four months.
Khaled Al-Jazwi, a spokesman for the Benghazi local council, said the attack occurred on Thursday.
"We don't know yet who did this," said Jazwi. "We have spoken to the local council's security committee about investigating who is behind this. This cemetery has been here for decades and nothing like this has ever happened before."
Earlier this year, Libya's leadership apologised after armed men in Benghazi smashed the graves of British and Italian troops killed during the second world war.
In February, amateur video footage posted on Facebook showed men casually kicking over headstones in a war cemetery and using sledgehammers to smash a metal and stone cross.
Benghazi is near where British and Commonwealth troops fought heavy battles against German and Italian forces during the 1939-45 war.
The city was the starting point of the uprising last year that later ended Muammar Gaddafi's 42-year rule, but it is now a hotspot for violence, with arms readily available and state security forces struggling to assert their authority.
A convoy carrying Britain's ambassador to Libya was hit by a rocket-propelled grenade on Monday, wounding two of his bodyguards.
Five days before that, an explosive device was dropped from a passing car outside the offices of the US diplomatic mission in Benghazi. The blast that followed slightly damaged the gate in front of the building.
Earlier attacks targeted the International Committee of the Red Cross and a convoy carrying the United Nations envoy to Libya.
Security experts say the area around the city is host to a number of Islamist militant groups opposed to any western presence in Muslim countries.
link